We take great pride in offering only the best treatments available. Not only will your experience be like no other, you will see results to match.
UPPER ARM TONER (35 min) // £45
For those ladies worried about loose and saggy upper arms, this effective treatment works to firm and tone using our specialised mineral rich clay formula together with a bandage wrap.
THIGH BLASTER (35 min) // £45
A concentrated wrap on the upper thigh where 'orange peel skin' is often a concern. Using a mineral rich clay formula in conjunction with a sculpting bandage wrap, the treatment works to form and tone the area reducing the appearance of cellulite
TUMMY REDUCER (35 min) // £45

Need a quick fix? Help is at hand with our effective tummy wrap which uses mineral rich clay in conjunction with our bandage wrap to firm, lift and shape the waist and stomach area. Great for before the beach and perfect for new mums!
BUTTOCK SHAPER (35 min) // £45
Sculpt your buttocks into shape with a firming, toning and sculpting buttock wrap.
BUST LIFTER AND BACK TONE (35 min) // £45
For many women, as the years take their toll, the chest area can sag, and the area around the back of the bust can appear loose. Our intensive therapy works to lift and firm the bust area and helps to smooth the are around the back. The treatment uses a unique formula of clay and minerals together with bandages that concentrate on creating a lifting effect.
Treatments may be taken individually, but for maximum results, consider a course of 5 treatments taken weekly.
"Zoe's beauty treatments make you feel fabulous and her makeovers are legendary. She listens to your ideas and colour preferences and my wedding makeover made me feel so beautiful and elegant."
"I love going to Frothimoon, the girls always make you feel comfortable and relaxed. They make my nails look amazing and last for ages, my record is 18 days, amazing as I am a florist and very hands-on. Tan, brows and massages all fab. Plus lovely gifts and presents available to buy all year round Well done girls."
"A facial experience amongst friends, amazing people doing an amazing job. I always look forward to my next treatment. Recommended to all!"
THERMO-THERAPY EXPERIENCE // £75
A highly therapeutic massage using the energy and heat retaining properties of volcanic basalt stones. Deep and fast penetration of the muscles is achieved to release tension in the body and promote profound relaxation. The warm stones will be used as an extension of your therapist hands, as well as being expertly placed on energy centres of the body. With the addition of one of our signature oils, this treatment becomes a truly blissful experience.
SIGNATURE MASSAGE THERAPY // £55
Commencing with a hot stone back massage to release
tension around the neck and shoulders, followed by a tailored facial incorporating hot and cold stones to aid drainage and relaxation. Finally enjoy a soothing scalp massage.

Aroma-works is 100% natural, with an aim to deliver proven therapeutic benefits of natural bioactive ingredients through treatments, which are paraben, sulphate, silicone, petrochemical, mineral oil, nut, gluten and dairy free, not tested on animals, vegan friendly and safe in pregnancy.
FULL BODY AROMATHERAPY MASSAGE // £45
A unique full body indulgence whereby the massage techniques, pressure and blend of essential oils are completely tailored to your needs. Allow your therapist to help you choose from our Relaxing, Revitalising or Detoxifying massage oils.
BACK, NECK & SHOULDER AROMATHERAPY MASSAGE // £ 35
A classic back, neck and shoulder massage to help relieve specific areas of tension. The perfect "quick fix" if you cannot spare the time for our full-body ritual.
PRESSURE POINT SCALP MASSAGE // £ 35
This deeply relaxing scalp and neck massage uses Eastern techniques to relieve tension and restore your natural energy flow. The calming properties of our Soulful essential oil blend help de-stress and revitalise the mind and body.
PLACID PINDA MASSAGE // £70
An exotic spiced pinda massage. Cinnamon, Cardamom and Nutmeg steamed pindas together with exquisite oriental oil provide a highly relaxing, deep massage. This exotic therapy also has nourishing and antioxidising properties.
MEDITERRANEAN CANDLE MASSAGE // £65
A warming full body massage. Choose one of our Mediterranean inspired massage candles; Lavender, Olive or Citrus which will be burned while you enjoy a relaxing massage. The warm oil from the candle is then poured over the body for a prolonged body massage, using deep and soothing movements. This indulgent massage will ease tension whilst natural antioxidants will hydrate and nourish the skin.
HOPI EAR CANDLES // £30
Originating from ancient practices, this relaxing treatment will help relieve symptoms of a wide variety of ear disorders such as allergies, congestion, sinus pressure, earache and tinnitus through a light suction effect. The treatment is completed with a facial drainage massage.
LOVE YOUR LEGS // £40
A perfect treatment for tired, aching legs. Our Baobab energising leg treatment includes an exfoliation and massage to the legs followed by a touch of our Dreamy Legs gel. A top
to toe therapy, leaving you radiant and walking on air!
COCOON INDULGENCE // £ 85
Drift away dreamily in our warm and cosy body envelopment – a wrap experience like no other! A delicate blend of sea salt and coconut oil is used to refine and rebalance the skin, before a rich formulation of Pumpkin Seed, Coconut, and Rosehip oil is generously applied to the entire body, Lie back on our heated blanket and allow yourself to be wrapped up and Cocooned whilst your therapist performs a bespoke
express facial to ensure you are pampered from head to toe.
C+ BODY ENVELOPMENT // £60
Vitamin C body wrap and exfoliation. Packed full of Vitamin C, this body exfoliation gently polishes the skin to revitalise and hydrate, leaving it smooth and clear. The body is then
enveloped in a divine Pure C wrap.
PHYTOCARE BAOBAB RITUAL // £60
An energising full body massage & exfoliation. Using ethically sourced Baobab seed oil, this African-inspired full body massage promises an invigorating, stress-reducing experience. The blend of natural oils provides anti-inflammatory benefits, a reduction in stretch marks and increased skin elasticity, making it the ideal pregnancy body treatment.
HIMALAYAN BODY BRILLIANCE // £50
This wonderful body polish treatment uses rare Himalayan sea salt to exfoliate the body leaving it silky soft and delicately fragranced. An expert blend of 84 Trace Minerals detoxifies the body and encourages nutrient absorption to nourish the skin. This brilliant treatment is completed with a conditioning fusion of 12 Bioactive ingredients including the highly effective Seagrass.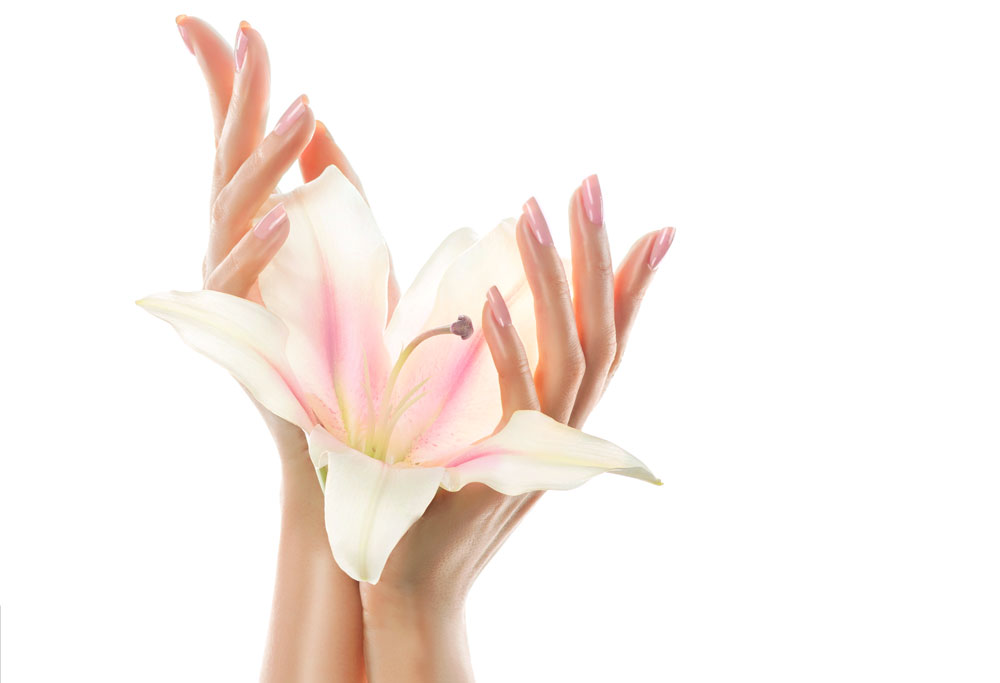 ALMOND SPA MANICURE // £ 32
A luxurious manicure which cradles your cuticles, nails and hands in sweet almond, jojoba oils and Vitamin E. With full cuticle and nail care,
our Almond Spa Manicure soothes tired hands leaving them baby-soft and smelling oh-so – sweet. Finished with a nail treatment or colour of your choice.
SIGNATURE SPA MANICURE // £42
This is the ultimate treat for your hands and nails. Your skin will be replenished with a relaxing hand soak and exfoliation, hand and
arm massage and then wrapped in an almond illuminating mask and cocooned in heated mitts which deeply conditions and refines the skin, leaving it with a healthy glow and includes cuticle tidy nail file and shape and application of polish or natural colour finish.
NAIL ENHANCEMENTS // £42
Full set of Calgel enhancements with Shellac finish Using Calgel, a 21st Century gel system which is flexible and durable, we can extend, strengthen and protect your natural nails. It will cause no damage or weakness to your natural nail bed. Great for fingers or toes, as it offers a semi-permanent nail colour or French Finish that will not chip or wear off! Excellent for holidays, summer or all year through!
MARINE SPA PEDICURE // £ 35
An ocean inspired journey for the feet, commences with a stimulating mineral bath, marine salt scrub and followed with a massage oils to help toes and feet feel soothed. Full nail, cuticle care, foot and lower leg massage. Finished with a treatment or colour of your choice .
Marine Spa Pedicure & Shellac application // £55
Marine Spa Pedicure, Shellac removal & Shellac
re-application // £60
SIGNATURE SPA PEDICURE // £48
This luxurious treatment is perfect for tired feet, the journey begins with a stimulating mineral bath marine salt scrub removal of hard skin and then immerged in a cooling and hydrating foot masque and heated booties to help soothe and soften exhilarated feet. Cuticle care, nail file and shape, foot and lower leg massage, application of cucumber heel therapy and finished with a treatment or colour of your choice. CND shellac delivers up to 14-day flawless wear, superior colour and mirror shine with zero dry time and no nail damage.
SHELLAC
Shellac combines the ease of polish with the performance of gels. CND shellac delivers up to 14-day flawless wear, superior colour and mirror shine with zero dry time and no nail damage.
SHELLAC FILE AND POLISH HANDS OR TOES // £28
Includes file and shape, cuticle tidy and finish of your choice. 
ADD TO YOUR TREATMENT
Strengthened Base Coat with Shellac // £32
REMOVAL AND REAPPLICATION // £37
Includes file and shape, cuticle tidy and finish of your choice.
SHELLAC ROCKSTAR // £ 32
Shellac application to hands or toes with a Rockstar glitter finish.
SHELLAC REMOVAL // £15
Removal of Shellac to hands or feet and nourish.
Add-on to your treatment…
Nail ART
Foil / Stamping / Nail design on hands or feet.
2 nails or toes £2 // 4 nails or toes £4 // Full nails or toes £6

WAXING
Full Leg // £30
Half Leg Wax (lower) // £22
Half Leg Wax (upper) // £26
Three Quarter Leg Wax // £27
Underarm Wax // £12
Arm Wax // £15
Eyebrow Wax // £9
Lip OR Chin Wax // £9
Bikini Wax // £18
Brazilian Wax // £30
Hollywood Wax // £48
MEN'S WAXING
Chest Wax £25
Back Wax £25
Eyebrow Wax £9
ST TROPEZ TANNING // £45
The experience begins with a full-body exfoliation and moisturising of dry areas. Completely prepared for the application of the golden tanning lotion, lasting approx 7-10 days. Includes full body and Face.