We take great pride in offering only the best treatments available. Not only will your experience be like no other, you will see results to match.
FROTHIMOON BESPOKE FACIAL // £50
Designed for your specific skin's needs.
We will choose products from the Germaine de Capuccini Options range to suit your individual skin type. Each product is tailored to treat specific concerns. Even the most sensitive of skin's benefit from this facial. Your skin will be deeply cleansed, hydrated and radiant.
PUREXPERT RE-BALANCE // £ 58
Purifying facial to reduce oiliness.
Purexpert commences with an enzyme packed gel to extract blackheads and whiteheads, followed by a red clay mask to cleanse and reduce the size of the pores. Concludes with a Blemish Balm (BB) Cream to leave the skin smooth and hydrated. After 1 treatment, 98% of clients had clearer skin with a more matt appearance*. *Self-assessment test on 146 individuals after 1 treatment
SO DELICATE SENSITIVE SKIN // £50
Natural plant facial to calm and correct sensitivity.
A blend of natural plant extracts and exclusive technologies restore the outermost layer of the skin, reducing sensitivity. The natural defence mechanisms of the skin cells are stimulated, increasing the skin's tolerance level and providing a soothing sensation. After 3 sessions, 95.5% of clients report more comfortable and calmed skin*. *Self-assessment test on 22 individuals exclusively with sensitive skin after 3 treatments.
HYDRACURE INTENSE HYDRATION // £63
Deeply hydrating facial for dehydrated skin.
This hydrating facial uses our unique "Hydractive" blend of ingredients including Hyaluronic Acid and natural spring water from the Izumo Yumura thermal spring in Japan. Your skin is provided with the natural healing ability to retain moisture. After just 1 treatment, 100% of clients have more hydrated skin*. *Self-assessment test on 101 individuals after 1 treatment.
EXCEL THERAPY O2 CITYPROOF // £65
Oxygenating anti-pollution facial for suffocated skin.
Two revolutionary masks work to repair and defend the skin against pollution damage and external stress. Our oxygenating bubble mask releases pure Oxygen into the dermal layers of the skin. A second mask uses Dual Matrix technology to activate the skin's immune system increasing its defence capability. 98% have more detoxified, decongested skin.* *Self-assessment test carried out on 200 volunteers after 1 treatment.
INTENSIVE ROSE THERAPY // £60
Using real rose petals to soothe stressed skin.
This exquisite facial uses the extract of 5 different Roses to neutralise the effects of emotional stress on the skin. Relax and breathe in the natural scents of Roses as this facial soothes and nourishes the skin whilst strengthening it's natural barrier and reducing redness.

TIMEXPERT LIFT & CONTOUR // £75
The ultimate facial to lift and re-define facial features.
At the heart of this treatment lies our unique and exclusive complex, V-Matrix. With flaccidity in the skin beginning in the deepest layers, V-matrix works at the root of the problem to rebuild and restructure the dermis, transforming the skin from the inside out. 100% of clients have a more defined facial contour after a single session*. *Self-assessment test on 111 individuals after 1 treatment.
TIMEXPERT RIDES COLLAGEN BOOST // £75
Advanced facial to reduce expression lines and wrinkles.
Our exclusive Micro-Dermoxine Complex® and Pro-Collagestine Fill technology combine to neutralise and inhibit micro-tensions whilst increasing natural collagen and elastin production. 98% of our clients declared their wrinkles were reduced.* *Self-assessment test on 41 individuals after 4 treatments.
TIMEXPERT C+ ANTI-GLYCATION // £65
Illuminating facial to combat the first signs of ageing.
An advanced anti-glycation facial utilising the benefits of Ume extract to fight against the damaged collagen fibres caused by sugar and UV radiation. Additional Vitamin C, a powerful antioxidant, protector and firmer, provides skin with a fresh, healthy glow. In just one session, 97% of clients declare their skin is smoother, more radiant and healthy*.
*Self-assessment test on 123 individuals after 1 treatment.
TIMEXPERT SRNS GLOBAL ANTI-AGE ON // £70
Anti-ageing face and eye treatment based on epigenetics.
Global Anti-age ON reactivates the genes that naturally slow down the ageing process whilst boosting cellular regeneration using Epigenol and Zinc-Glycine Complex. A powerful all-round anti-ageing treatment that provides firming, wrinkle reduction, revitalisation, improved pigmentation and hydration. 99% of clients have firmer, more supple and nourished skin after a single session*. *Self-assessment test on 173 individuals after 1 treatment.
FOR MEN ENERGY FACIAL // £50
Relaxing, healing and energising facial.
A treatment designed specifically to meet the needs of men's skin. Infused with a blend of plant extracts and vitamins, this facial therapy is not only relaxing, but also rejuvenates the skin, often irritated by the daily ritual of shaving.
GLYCO ROLL & LIFT // £45
A quick fix for dull skin lacking vitality.
This therapy commences with a powerful glycolic facial peel to renew at the deepest level. This is followed by a massage utilising a unique rotating wand appliance rich in Germanium, to re-balance the positive and negative ions in the skin. Altogether restoring the skin's freshness and vitality whilst leaving you feeling more energised!
MICRO-DERMABRASION
30 MINS £40 // 6 0 MINS £ 55
A non-invasive treatment to intensely exfoliate and resurface the skin.
This facial safely and gently removes dead skin cells and lifts away any debris to stimulate blood flow and encourage the formation of collagen and elastin. This results in firmer, revitalised and youthful looking skin. Micro-Dermabrasion can treat acne, acne scarring, lines and wrinkles, ageing skin, dull and tired skin, stretch marks, pigmentation and skin blemishes. Also good for the hands and back. 30 minutes includes cleanse, tone & moisturise. 60 minutes includes cleanse, tone, mask, lymphatic facial massage & moisturise.
SYNERGYAGE CLINICAL PEEL // £60
An intensive peel to deeply renew and smooth the skin.
A deeply renewing and anti-oxidising facial peel suitable for even the most sensitive of skin. Our AOX system stimulates the synthesis of collagen and elastin, reduces pigmentation and dark spots whilst hydrating and renewing the skin. 100% of clients show visibly renewed skin which is smoother, more luminous and firmer*. *Self-assessment test on 112 individuals after 4 treatments.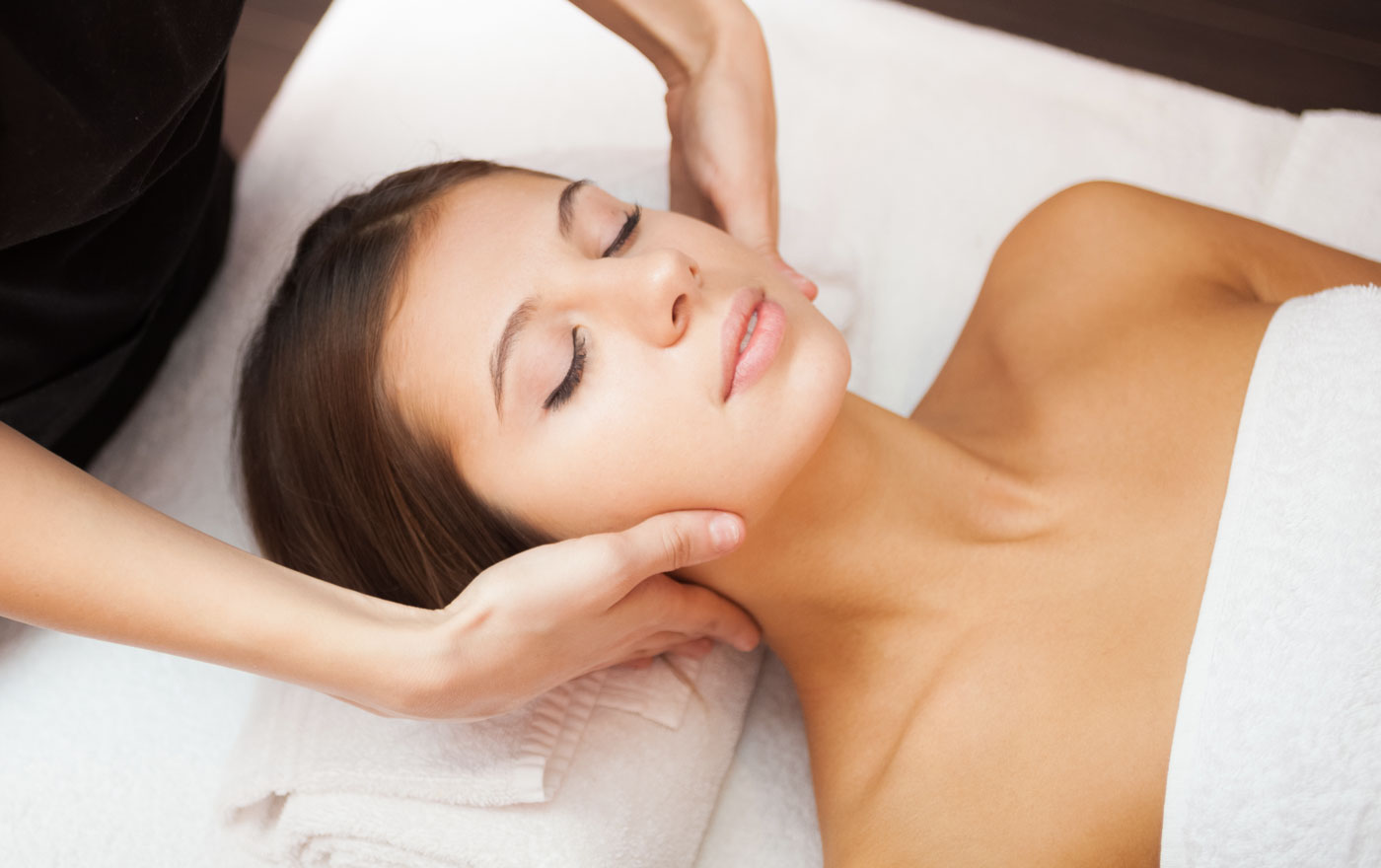 Add-on to any facial…
Timexpert Rides Collagen Boost Eyes // £40
Express eye treatment to reduce puffiness, lines and wrinkles
Utilising our exclusive Micro-Dermoxine Complex® and Azarole Buds, results are seen immediately after this flash treatment. Lines and wrinkles are filled in and puffiness is reduced, rejuvenating the eye contour. In just a single session, 87% of clients have reduced wrinkles*, increasing to 100% after a course of 4**.
*Self-assessment test on 67 individuals after 1 treatment
**Self-assessment test on 15 individuals after 4 treatments

EYELASH EXTENSIONS:
FULL SET £70 // MAINTAINENCE £35
Longer thicker natural looking lashes
Semi-permanent Eyelash extensions are worn by almost every celebrity and every woman's dream is to have long thick eye-lashes!
Top-ups recommended every 2-3 weeks.
Express Lash Service // £40
Flutterly gorgeous in 20 minutes
These lashes are great quick fix for parties, romantic weekends.
Lasts up to 2 weeks.
Tint & shape
Eyelash Tint* £15
Eyebrow Tint* £10
Eyebrow Tint & Shape* £18
Eyelash & Eyebrow Tint* £22
Eyelash & Eyebrow Tint & Eyebrow Shape* £30
*Patch test is required 24 hrs prior to treatment
lash bomb lift // £40
Want a fabulous flutter and no maintenance? Look no further. Lash Bomb Lash Lift enhances the natural lash, making them appear longer, curlier and more GLAMOROUS! This transformation lasts up to 6 weeks. Look wide awake with no need for mascara.
Lash Bomb Lift with Eyelash Tint* £50
Lash Bomb Lift with Eyelash & Eyebrow Tint & Wax/Shape* £60
*Patch test is required 24 hrs prior to treatment
Make-up // Price on application
Both proprietors and their team are highly qualified in make-up for Bridal, Bridesmaids, Mother of the Bride/Groom, Proms and more.
To view our extensive testimonials or discuss your requirements, please call in or ring our team to book a free no obligation consultation.
Service can be provided either at the salon or venue of your choice. Available for group bookings and at desired venue. A non-refundable deposit is required on booking.
Make-up Lesson // £45
Need to revamp your make-up bag or some professional hints and tips on application techniques? Then this is an hour dedicated to learn what is required individually for you. Revolutionise your make up and technique forever!